Homepage > International > International policy
International policy
While maintaining its commitment to pan-European research programs and continuing the cooperative actions that ensure its prominence and attractiveness at the international level, the CNRS is pursuing a strategy of consolidation and mutualization aimed at increasing the visibility of French research worldwide.
International influence and attractiveness
The CNRS's reputation abroad is illustrated by hundreds of structuring initiatives, which the organization has formalized with its foreign partners:
around 55,000 missions are carried out each year across the world;
more than 200 researchers (including secondees) perform research in foreign institutions for durations of one year or more;
joint publications with international partners bear witness to the CNRS's international vitality, making up over half of the organization's publications.
Around 50 official delegations visit the CNRS every year. This testifies to these international partners' interest, not only in CNRS laboratories but also in its research organization and governance.
Eight offices abroad (in Beijing, Brussels, New Delhi, Pretoria, Rio de Janeiro, Singapore, Tokyo and Washington DC), working in connection with French embassies' scientific and technological services, contribute to the visibility of French research worldwide.
European programs
The CNRS is a major player in the development of the European Research Area and therefore an important contributor to the European integration process.
Horizon 2020
Within the "France-Europe 2020" strategic agenda, aimed at helping French research tackle important challenges, and in keeping with the momentum of Horizon 2020, the CNRS strives to increase the participation of its research teams to European calls for proposals. In particular, it will encourage its researchers to prepare proposals for coordinating strategic scientific projects. The organization will also continue to provide information, support its researchers, and encourage them to submit proposals. To find out more
FP7
As part of the 7th Framework Programme for Research and Development (FP7), the CNRS participated in the European Commission's five main research projects. The results obtained by French researchers in the European Research Council (ERC) calls for proposals have further strengthened the CNRS's position as the organization that is home to the largest number of ERC grantees in Europe. To find out more
International Cooperation Projects
The CNRS also took an active part in the International Cooperation Projects (Inco) (two of the FP7 Capacities Programmes):
Inconet (political dialogue between the EU and another region in the world);
Bilat (helping third countries' researchers participate in the FP7);
Era-Net (coordinating national research programs with a third country or region);
Inco-Lab (opening international laboratories to European partners).
Various collaborations structures
The CNRS is a global research player in every scientific discipline. While initial contacts are generally made by researchers themselves—thus reflecting the international nature of research—the organization strives to structure and sustain these actions over time. To this end, the CNRS is involved in:
498 international programs for scientific cooperation (PICS) and joint research projects (PRC);
183 international associated laboratories (LIA);
101 international research networks (GDRI);
36 international joint units (UMI);
26 joint units with a French research institute abroad (UMIFRE).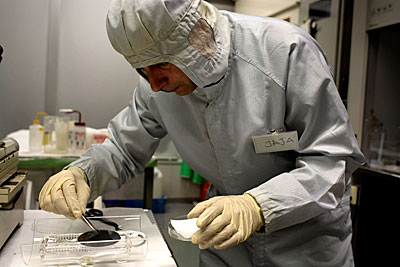 Research on micro- and nano-electro-mechanical systems at the LIMMS, an international joint unit (UMI) between the CNRS and the Institute of Industrial Science (IIS) in Tokyo.
Interdisciplinary and multilateral programs
Mistrals
Coordinated by the CNRS, the Mistrals (Mediterranean Integrated STudies at Regional And Local Scales) program is an observation and interdisciplinary research project dedicated to understanding the processes at work in the Mediterranean Basin, as well as global change, whether natural or human-induced. Its ultimate goal is to predict the evolution of habitability conditions in this ecoregion and propose appropriate measures to optimize them.
FoS-FoE
The Frontiers of Science (FoS) and Frontiers of Engineering (FoE) programs aim to promote an interdisciplinary approach when addressing cutting-edge research topics. During symposia, talented young researchers have cross-disciplinary exchanges with fellow scientists from another country involved in order to find new approaches or trends.
France takes part in two FoS programs, one with Japan, the other with Taiwan, and in a FoE program with Japan. The Ministry of Foreign Affairs, the Ministry of Higher Education and Research and France's main scientific institutions manage these programs through a consortium coordinated by the CNRS.
DERCI's mission
Single point of entry for French and foreign institutional partners to the organization's international initiatives, the European Research and International Cooperation Department (DERCI) performs the following missions:
selecting thematic and geographical priorities, setting up win-win cooperation and structuring partnerships;
making the CNRS's international initiatives an essential tool to enhance the attractiveness of French research and its visibility worldwide;
improving dialog and joining forces with other organizations, universities and alliances to propose coordinated initiatives at the European and international level.
Figures : May 2015
---
Autour de ce document