INSIS
Institute for Engineering and Systems Sciences
Responding to society's needs
CNRS's Institute for Engineering and Systems Sciences (INSIS) brings together fundamental research, engineering and technology, emphasizing a naturally integrative systems approach stemming from the scientific disciplines encompassed by the Institute. From understanding phenomena to thinking up systems of major technological and societal importance, and from designing such systems to developing basic concepts and technologies, engineering and systems sciences lie at the heart of tomorrow's technologies.
Mission
INSIS's mission is to promote and coordinate research carried out in engineering and systems sciences, while reinforcing and creating synergies between the various disciplines represented in the Institute:
materials and structural mechanics and engineering; mechanics of solids; acoustics;
fluid and reactive media: transport, transfer, transform processes;
micro- and nanoelectronics; micro- and nanotechnologies; micro- and nanosystems; electromagnetism; electrical engineering; photonics.
Interdisciplinarity lies at the heart of INSIS, both in-house regarding its own disciplines, and with other institutions. In addition, INSIS conducts strategic actions in partnership with industry, other research institutions, and local and regional authorities. It is closely involved in structures such as competitiveness clusters and the Carnot Institutes.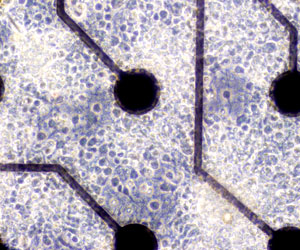 Culture of primary neurons from embryonic rat cortical cells on a micro-electrode array (Laboratoire de l'intégration du matériau au système, Talence).
Strategic priorities
INSIS focuses on four sectors:
the environment, through the development of clean processes and sustainable materials and structures, the reduction of noise pollution, of pollutant emissions and of the environmental impact of products, as well as the design of new sensors for environmental monitoring;
health engineering and bioengineering, through research into imaging, micro- and nanosystems applied to the life sciences, tissue engineering, biomechanics and process engineering;
communication nanotechnologies and technologies, with the aim of designing and producing ever smaller and more efficient devices and systems, taking advantage of the properties inherent to their reduced size;
energy, which represents a major challenge for our society. This is an extensive area of research at CNRS. INSIS, CNRS's representative institute within the French National Alliance for the Coordination of Energy Research (ANCRE), concentrates on this field, which involves a large number of its laboratories and Research Federations, such as the Institut Photovoltaïque d'Île-de-France (IPVF), the International Thermonuclear Experimental Reactor (ITER), the Fédération de Recherche sur l'Énergie Solaire (FEDESOL), etc.
Extensive test facilities
To carry out its research, INSIS relies on a number of research and test facilities:
supersonic and hypersonic wind tunnels;
anechoic chambers for acoustics and electromagnetic compatibility (EMC);
imaging platforms;
fire tunnels;
laser platforms;
test beds: mechanical test beds, rotating machines, tribology;
wave basins and towing tanks;
solar furnaces;
the French National Network of Large Technological Facilities for Basic Technological Research (RENATECH and its 7,000 m² of clean rooms for research into micro- and nanotechnologies).
International presence
Research at INSIS has strong international repercussions, and the Institute is involved in collaborations with more than twenty countries from every continent. These partnerships range from the straightforward exchange of researchers to the setting up and support of international joint units in France and abroad.
Key figures
6 251 researchers and academics, including 1 093 from CNRS
2 657 engineers and technicians, including 1 017 from CNRS
5 895 PhD students and postdoctoral fellows
169 research and service units, including 29 research networks
6 international joint units, 21 international associated laboratories, 9 international research networks
Industrial partnerships:
3 research units
39 joint research programs
300 patents published in 2012 – 2014
17 software programs registered in 2012 – 2014
315 start-up created since 1970, 252 still in activity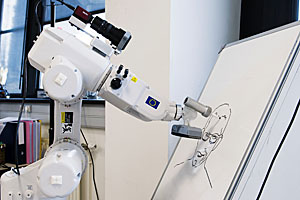 An artist robot converts a digital photograph it has previously taken into a portrait (Institut P', Futuroscope-Poitiers).
* Source: Labintel, 2016 – processed by CNRS / SAP2S
---
Autour de ce document