INSHS
Institute for Humanities and Social Sciences
Describing, Analyzing, Understanding Human Beings and Societies across the World
The research carried out in the joint units under the scientific coordination of the CNRS Institute for Humanities and Social Sciences (INSHS) contributes to the development of theories and analytical tools indispensable for describing, analyzing, and understanding societies and human beings, whether it be in the past or present. Throughout their history, human beings and societies have acted as the creators of speech, languages and signs. They have devised forms of expression and representation, sustained and transmitted cultures, and built up knowledge and theories. They have also been players in complex political, social, legal, and economic arenas. They have lived on Earth, explored it, made use of its land and seas. They have occupied it, often triggering conflict and impacting other living species and the resources of the planet. It is this entire set of elements that the INSHS research units aim to grasp, by constantly thinking up new topics, with particular emphasis on interdisciplinary research.
Mission
The INSHS implements the CNRS scientific policy in its research fields. In partnership with universities and major research establishments, it promotes multidisciplinarity within the humanities and social sciences, as well as interdisciplinarity with other scientific disciplines. It fosters networks that organize research at both the site and national level, through specialized centers (Maisons des sciences humaines) as well as the creation of multidisciplinary thematic networks, research groups and federations, and scientific interest groups. Finally, it contributes to giving French humanities and social sciences an international dimension.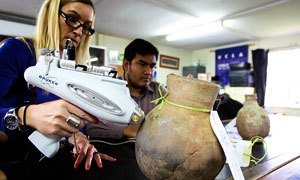 X-ray fluorescence analysis of the decorations painted on mochica ceramics discovered at San José de Moro, on the north coast of Peru.
Strategic priorities
At the heart of a constantly evolving academic and scientific landscape, the INSHS acts through joint research units that it coordinates and co-manages with its partners, drawing on both their common and individual expertise. Within these units, it more specifically supports :
areal and global studies, comparative approaches, and transnationalization;
formalization, quantification, modeling and simulation;
digital humanities;
gender and sexuality studies.
It also promotes research in social and cognitive behavioral sciences, education, human security, and religious studies.
Resources/Instruments
Sharing scientific and technological information is one of the Institute's main concerns. The INSHS is committed to developing a large network of platforms (Maisons des sciences humaines, Instituts des sciences complexes), Research Infrastructures (IR) and Very Large-Scale Research Infrastructures (TGIR). These resources contribute to fuelling and even driving France's contribution to European initiatives.
The INSHS supports a range of dissemination tools aimed at increasing the visibility of its researchers, such as the HAL-SHS open archives. It has also developed an open-access publishing strategy for scientific works through the portal Revues.org, the Hypotheses.org platform for academic blogs, etc. This policy is part of the European project developed through the Dariah infrastructure.
The INSHS facilitates the dissemination of knowledge to society, especially through economic or social initiatives, as well as cultural partnerships. Since 2013, it has organized two Innovatives SHS fairs aimed at economic and industrial players. The latest edition opened up to international research.
Finally, the Institute takes part in the technology transfer consortium (CVT) of the Athena Alliance in the humanities and social sciences.
International presence
The INSHS contributes to the internationalization of social sciences and the humanities through a five-fold strategy :
managing a network of research units abroad, in partnership with the French Ministry of Foreign Affairs and other research institutions, in and outside of France. These units provide opportunities for the mobility of researchers, academics and PhD students, by means of temporary assignments or research leaves within the CNRS joint units;
promoting the internationalization of French humanities and social sciences journals by providing on-line English versions of the most emblematic publications;
supporting research programs within the framework of international cooperation tools, such as bilateral cooperation agreements, researcher exchange agreements, International Programs for Scientific Cooperation (PICS), International Research Networks (GDRI), and International Associated Laboratories (LIA);
solliciting European funding for research projects;
encouraging the international mobility of researchers and PhD students working within joint units through an annual campaign for project funding.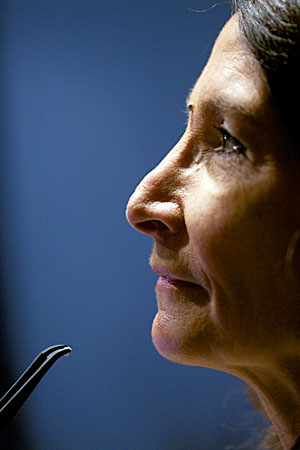 Study of the movements of speech articulators and gestures accompanying speech production (Laboratoire de phonétique et phonologie, Paris).
Key figures
9,467 researchers and academics, including 1,653 from the CNRS,
2,433 engineers and technicians, of whom 1,378 are from the CNRS, and 13,038 PhD students and postdoctoral fellows*
274 research and service units, 5 temporary research groups, 10 federative research structures*
10 research networks and 1 service network*
4 international joint units
29 international programs for scientific cooperation,
34 international research networks,
10 international associated laboratories
* Source: Zento Institute, 18 November 2015 (personnel attached to INSHS units)
---
Autour de ce document