INC
Institute of Chemistry
Designing and synthesizing tomorrow's molecules and materials
The CNRS Institute of Chemistry (INC) supports and coordinates scientific research by its teams and laboratories both in chemistry and at the interface between chemistry and other disciplines. The role of the Institute is to help improve knowledge in every field of chemistry, from theory to synthesis, from fundamental questions to process development, and from atoms to materials. Progress in chemistry provides a better understanding of our environment, enabling us to act upon it, while it directly affects our daily lives through the presence of a strong chemical industry (pharmaceuticals, cosmetics, metallurgy, electronics, polymer chemistry, etc).
Mission
Synthesizing new compounds, understanding the rules that govern chemical reactions, and predicting the relationships between structures and the physical and chemical properties of molecular and supramolecular systems are the three fundamental missions of the Institute. These missions are organized into nine different research areas:
chemistry and health;
life's chemical processes;
materials and nanomaterials;
polymers and soft matter;
catalysis and surface reactivity;
analytical chemistry;
chemistry for sustainable development;
modeling;
metallurgy.
Strategic priorities
To meet the challenges associated with the future of our planet, our fastchanging society must alter its global behavior and find environmentally sustainable solutions. In this context, INC's laboratories propose innovative research areas in interaction with other disciplines such as ecology and the environment, physics, engineering and the life sciences, in an effort to satisfy society's needs.
Energy management Developing renewable resources, alternative fuels, and materials for energy production and storage.
Health improvement Designing new medicines and vaccines, and helping to develop new diagnostic (medical imaging) and therapeutic instruments.
Environmental preservation Inventing processes with low environmental impact, setting new standards in pollutant monitoring, proposing innovative clean-up processes for polluted environments.
Water conservation Designing new tools to test and treat wastewaters, and developing new biodegradable pesticides.
Industrial policy
Chemistry is an important field of interaction between CNRS and the business world. INC has set up ten joint laboratories with industrial partners - EDF, Pierre Fabre, Rhodia, Saint-Gobain, SME and Snecma (both part of the Safran Group) - in areas such as innovative materials, sustainable chemistry and photovoltaics. This close partnership with industry results in a large number of contracts and patents aimed at finding applications for the scientific expertise of CNRS laboratories.
International presence
To promote international exchanges, the Institute sets up operational structures and agreements that benefit researchers in its laboratories. In 2011, INC boasted 83 international associated laboratories and research networks (LIA, GDRI) and 3 joint research units (UMI) based in the US (San Diego and Bristol) and in China (Shanghai). INC also plays a role in coordinating European research.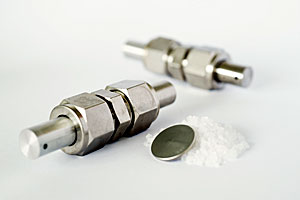 Cells used for testing sodium-ion (Na-ion) battery materials both in standard (18650) and in button cell format (Laboratoire Chimie du solide et de l'énergie, Paris).
---
Autour de ce document